Good Afternoon everyone!
Just a very quick post from me aka Terri today. I have been fighting migraines most of this week and today is no exception. I apologize for how brief this post is but I will add links a little later when I am able to cope with the bright lights.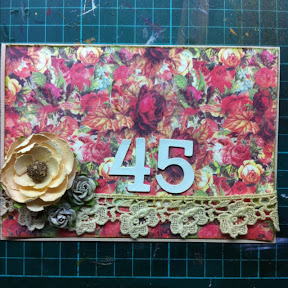 Here is a quick and simple card I made for my inlaws 45th wedding anniversary. I used some of the new gorgeous mulberry papers from Prima from the Romantique line. These papers are just divine!!!! Edges are inked with Peeled Paint distress ink from Ranger. Flowers and lace are also Prima and you can purchase everything from the store...even better when you can grab it all in one place.
I hope you all have a wonderful afternoon...I will add the links for the products as soon as my head quits the bass drum impressions.
Posted using BlogPress from my iPhone